"Black Market Charms" - an original article by Cecil "C Lue" Disharoon for thecatalystsd.comPosted in Articles on Wednesday, November 12, 2014

Winning international critical and commercial success with the Mississippi Mudsharks beginning in San Diego in the early 90's, Scottie Blinn shared stages with Billy (ZZ Top) Gibbons, Willie Nelson, George (P Funk) Clinton, Dick Dale, Buddy Guy and many visiting Blues stars before the band called it a day in 2009.

Determined to return to the road, he and Roxy Coverdale founded Black Market III, a band reflecting those influences, with metal and grease punk alchemy.

At the tail end of their 4 month European tour through Germany, Belgium, Holland, and England, Catalyst's Cecil "C Lue" Disharoon caught up with them.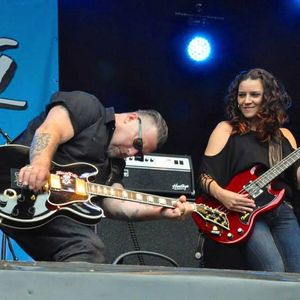 C Lue:  Along with Coverdale's "You," instrumental surf rock ("Psych Ward"), even Neil Young's venerable tune "Old Man," I did notice the importance of blues covers to your sets, dating far back in the tradition ("Where Did You Sleep Last Night?", Wayne Walker's "All I Can Do Is Cry"—also covered by Mike Ness). Do you feel this frees you to invest your energy into creative solos?

Scottie Blinn:  I am a Blues musician to the core of my soul, but don't limit myself to just playing straight or traditional Blues.  I always keep that root strong though, because from it all later music I love was born.  I feel it is important as a musician and artist to not put limits or rules on the music and art.

As far as soloing, within the Blues there is more room for improvisation. Honestly, for years I have spent a lot of time 'writing' guitar solos, especially for the more Rock songs and originals that aren't straight Blues.  To me solos are an extension of the vocal and story being told.  They are another way to add to the emotion of a song and should be crafted like a well constructed conversation to convey the message of the song.

That's not to say they are contrived.  All the ideas and performances come from the heart, soul, and gut...'off the cuff'.  At that point the best parts are put together to form a truly emotional and impactful 'statement' that bolsters the vocal, lyrics, and complete song.

The challenge for me every night is to play that solo better than the night before.  Also, sometimes new ideas come in to play that in my mind make that solo even better...seem to always evolve.  Then there are those songs where I just cut loose and go for total improvisation.  That leads to some pretty epic ideas!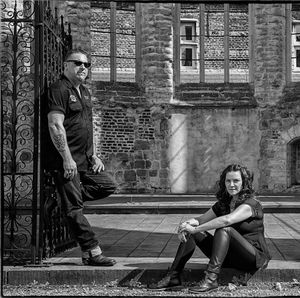 C Lue:  "Hoist the Rag" is one of your best-represented covers on YouTube---a song written by Tom Waits. (His song "Black Market Baby" inspired the band's name.) How would you describe Tom's influence on San Diego music, you in particular...what about it speaks most to you?

Scottie:  Our first CD, 'Songs That Shake The Cage', centered around ties to music from San Diego roots.  Tom Waits was the obvious connection for me. I'm completely taken with the stories, imagery, and poetry of his lyrics, and how the music creates the landscape for this.

He digs deep into the Blues as well, choosing to travel down the darker paths and more dangerous back alleys.  That is where I have always come from with my music...a very real place from within not always 'bright and happy', yet always positive.

C Lue:  I'd love to send a smooth breaking ball question into those superstitions and badass riffs you racked up as "Black Roses," the title track from your newest record. (Blinn edited the video, featuring clips of classic Noseferatu and Dr. Caligari movies.)

What inspired this particular symbols and superstitions?  Using "cross roads" is clever considering its place in blues folk lore, and of course, bad luck is the inspiration for many a blues number.  Cross of Salem was a symbol used by Aleister Crowley and 33rd degree Freemasons, among others; it's very evocative!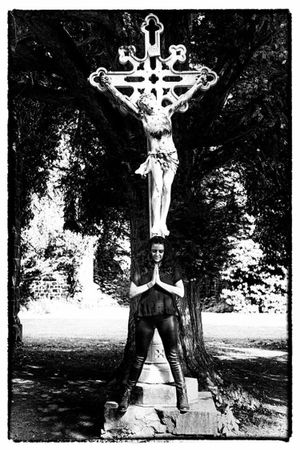 Scottie:  I could spend hours talking about the depth of the symbolism in this song.  The idea was to make a contemporary 'traditional' Blues song--- thus the references to superstitions, and the twist of mentioning a 'crossroads'.  We always stay away from rehashing the same clichés or writing different words to the typical Blues structure, but this topic is timeless.

In doing so, I dug deep to find less obvious superstitions, or one's that have not been overused in hundreds of Blues songs. "Drinking water poured from the moon's reflection"--poetically written with a Tom Waits influence.  Same with "You count the cars in a funeral procession", and "Takin' names and writin' 'em in red."

In the bridge, the message of the song comes alive.  "Black Roses growin' wild at the crossroads, hear the howlin' on the Hell Hound's Trail"—these reference the Robert Johnson legend, but are also reflective of evil's constant pursuit of us, pushing us towards the wrong path.
"The Cross of Salem protects me from the inroads"--this is a three barred cross sometimes ceremoniously carried by Catholic Popes, derived from, and related to, earlier crosses.  It is representative of the Pope's responsibilities, and also symbolizes the sign board above Christ's head, the middle for his outstretched arms, and the bottom where his feet were nailed.

Most importantly to the song (and to me), the three bars also represent the Holy Trinity, as well as the virtues of Faith, Hope, and Love.

**(Check out the picture I took at a Baroque Church in Neresheim, Germany just yesterday--Scottie).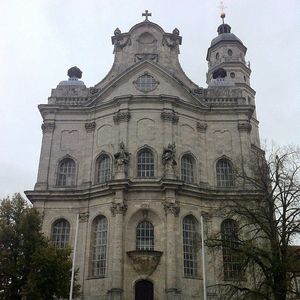 You brought up the use of the symbol in various forms to the 33 degree Freemasons and Aleister Crowley.  Like many symbols, such as the St. Peter's Cross (inverted, which is how he was crucified so as to not be compared to or imitate Christ) or even the swastika (originally an ancient symbol for good luck, prosperity, life, sun, strength..), the Cross of Salem has also been used by the like to represent their own meanings, or as a symbol of mockery to the Holy Trinity.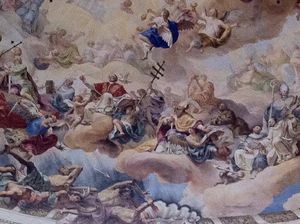 "Ring a bell just to keep you away". This is a very old superstition where evil spirits do not like the sound of a ringing bell breaking silence, and also for protection from things in the dark.

Bottom line is, we are faced with, and sometimes bombarded with negativity and evil every day.  This is a song about protection from these things.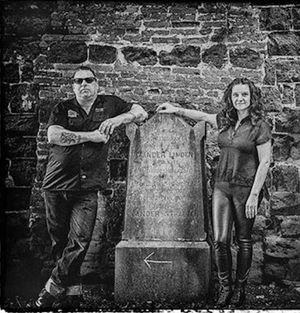 C Lue:  Have your blues travels put you in touch with people who genuinely believe in voodoo, and do you have any lucky hoodoos or superstitions that accompany you on tour?

Scottie:  I opened a show in 2004 for New Orleans musician Doctor John.  He married Roxy and I in a traditional West African ceremony!

Sorry to disappoint you—no hoodoos or talismans.  Roxy and I have complete faith and trust in God…all we need.

C Lue:  Are your European tours based around re-visiting old friends and venues?  Do you stay with friends or in hotels?

Scottie:  I've been touring in Europe for 18 years and have built a great fan base of loyal followers and most importantly, close friends. Show nights are spent in hotels, whereas most off nights we hang with "family".

We typically tour Belgium, Holland, Germany, and England, but also go to Switzerland, France, Spain, and Austria too.  I try to balance the established venues with new ones for us, so it's not possible to hit every country on every tour.

C Lue:  Any advice for bands wanting to tour Europe?
Scottie:  Absolutely!  They love American music there, but with the level of over-saturation of bands it had better kick ass!  I've been approached by a few people to write a book about it.  There will be a ton of great info in there.

As for now, work hard every day, get radio and internet DJ's to spin your songs regularly, make a name for yourself selling CD's in Europe and getting reviews and articles written about your band.  Just like home, they won't usually book you if they haven't heard of you.

Scottie also owns and operates Rock Academy of San Diego, which teaches music to children and adults.  

Scottie: I own and operate Grease Punk Studio and Double Barrel Records as well, have recorded many great SD bands...even booked a European tour for one.

- Cecil "C Lue" Disharoon is a San Diego/ Georgia musician who has also written the Twin Flames/ Southern Gothic Romance novel 'Anywhere With You' available on Amazon, and other books and comic books as Integr8d Soul.