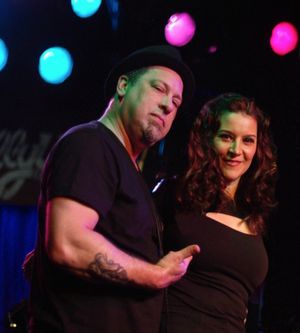 Black Market III is one of the hardest working, hardest rocking bands in San Diego. You can usually catch their high energy, blues-drenched, leave-nothing-behind live show multiple times a week up and down the coast. But come fall, you're going to need a passport to catch up with this 3-piece rock 'n' roll band.
Lead singer/guitarist Scottie Blinn, and bass player Roxy Coverdale-Blinn along with their new drummer are taking their coming new release Black Roses for a test drive overseas. No stranger to the trip across the pond, this will be Scottie Blinn's 13th European tour.  And not only have they been working on getting the new record set for the trip, they also have a fundraiser campaign in place to help with the expenses.
With their farewell show (Sept 19 at 98 Bottles) fast approaching, I had a chance to ask Scottie a few questions about the new record, new tour, and the band's most recent San Diego Music Award nomination.
1. Looking at the coming new release, what do you see as the biggest difference between the new record and the last?
Songs That Shake the Cage was my first CD since 2009′s Mississippi Mudshark's Voodoo Doll. I hadn't been writing a whole lot but had 4 cool songs to contribute. The focus ended up being something I had never done before, which was playing some deep cut and hand picked covers that mostly had ties to San Diego musicians. DFX2, Tom Waits, Joey Harris… The songs are among some of our favorites of all time, and the originals reflected this as well.
The new CD, Black Roses, again has some hand picked covers from our favorites, but has a much heavier focus on our new original material. The songs just seemed to flow out of me this time, not unlike back in 2004 when I wrote 3 albums worth of material! I didn't write as many songs this time, but they are the strongest I've ever written lyrically and musically. The trio of 'When The Sun Goes Down', '(Prelude) Black Roses', and 'You' (actually written by Roxanne Coverdale-Blinn… I arranged it and wrote the middle section), are killer separately, but amazing to me when played together!
The covers this time are from Neil Young, Tito & Tarantula, and John Preston. There are also two from our blues influences, T-Bone Walker and Otis Rush.
2. Did you go in with most of the songs written and flushed out, or does the band shape the material in the studio?
The process had taken shape over the period of 9 months, since our new drummer joined the band. We rehearse in my studio (Grease Punk Studio), and start laying down tracks as we go. I would write a song, lay down a quick iPhone demo with guitar and vocal, and send it to the other two. Then we would rehearse it, nail down an exact arrangement, and cut the rhythm tracks. I always go back and spend a good amount of time cutting vocal tracks and writing solos that are actually meant to be a thought out part of the song. The songs actually take shape and get to the finished point a lot faster after so many years of doing this!
3. How does it feel to have your last album (ranked by SD Rock 'n' Roll as the #5 record of 2012) Songs That Shake The Cage be nominated for an SD Music Award?
It's always nice to get recognition for hard work. The BEST part of the nomination is that we are being nominated in the 'Best Rock Album' category. I've always loved that our audiences cross over from traditional blues fanatics, to greasers, to Rockabillies, to metal heads!
4. You're getting ready for an international tour. How did you develop an audience abroad?
In 1994, when I was 25 years old, the first Mississippi Mudshark CD ended up in the hands of CrossCut Records by way of our benefactor, Charlie Pendrell. Charlie owned an optical company, and one of his biggest clients in Germany was Zeiss Lenses. They brought us over to Germany to play all of the convention shows representing their new line of sunglasses!
We met a man named Hans Boerner who loved the band and connected us with CrossCut, the largest distributor of blues in Germany. (He is one of my dearest friends to this day!). Subsequently, our first two CDs became #1 sellers through their catalogue! Tours became fairly easy to book, and I always kept things forging ahead even between Mudshark eras and now with Black Market III. Many live club and festival dates over 12 tours have really helped solidify things there. With this, my 13th European tour, the circle of countries continues to widen and we are building new and younger fan bases.
5. We have talked about the great experiences you have had when touring overseas, can you name one thing you are looking forward to the most about your international tour?
Seeing and playing for some of our best friends in the world, the food, the beautiful cities and countrysides, and just taking in the whole experience. Many countries in Europe truly are my home away from San Diego.
6. Who's your most influential international artist?
Me, personally – The Clash, Led Zeppelin, and more recently Band of Skulls… all from England. Roxy would probably agree.
7. You play a lot of shows–what's the biggest difference in playing to an American audience vs. an international audience?
European audiences are still very into live music. There are no TVs in the venues. The focus is the concert, and the response is nothing less than exuberant. They are also very into supporting the band by purchasing the merchandise during and after the shows. There is a great respect for artists and musicians in Europe. We try our best to run all of our shows here in the States that way. I'm insistent on no TVs on anywhere near the band while we are playing. It takes a little more effort and finesse to win over an American audience, but once you have their attention, the response is usually just as strong and the loyalty as great, too.
8. You have toured internationally before–what's one thing you always miss the most when you return to San Diego?
Actually, several things! Our friends, who are truly like family; the excitement of nightly shows in different cities; the vibe of how old things really are there; the culture and history of everywhere we go; driving really fast on German autobahns… I really feel much less stressed out and healthier when I'm in Europe; I thrive over there! Roxy and I will live there for some time in the future, guaranteed The one thing I really look forward to and miss from San Diego is the Mexican food! And of course our friends and family here!
Scottie Blinn has been a staple in the San Diego rock/blues community for years. His continued passion for creating ass-kicking rock 'n' roll is evident in this new record and everything he brings to every performance. Check out the band live and tell me I'm wrong.