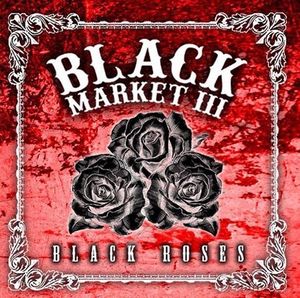 "Black Roses" Nominated "Best Blues Album" 2014 San Diego Music Awards

Black Market III, Black Roses Album Review (Luc Meert, Rootstime, Belgium--Sept. 2014)
One of the most exciting live bands at this moment is without a doubt 'Black Market III'. It's around 3 years since we first saw them in action.  We still remember vividly, the power they brought to the stage and we predicted a bright future for this band.  Without surprise their debut album 'Songs That Shake The Cage' confirmed our beliefs.  In the mean time they are becoming a well established band in the 'Low Lands' [Belgium and Holland] music circuit. 
  
We've seen them again recently, and frontman Scottie Blinn remains the master of his guitar.  His infectious riffs and emotive solos are highly impressive. The effervescent and accomplished bass guitar player, Roxanne Coverdale (Scott's 'confidante') and their quite spectacular new drummer complete this trio. 
  
The band brings a mix of self written material and very carefully chosen covers.  The songs vary from pure Rock and Blues to surprisingly twisted versions of their musical hero's songs.  We were blown away by the covers of Tom Waits, Wayne Walker and…Johnny Cash.  They skilfully managed that 'authentic live' feeling on this studio album and it is an absolute must for any collector.  The band was described by David Good from the San Diego reader as ' THE BAND TO WATCH' back in 2011, and we whole heartedly agree with him on this. 
  
On their latest album 'Black Roses' they state their case again with a brilliant cover of Neil Young's 'Old Man', but that is not the only thing to impress us. The album starts with a quite magnificent original number 'When The Sun Goes Down', this 'blues-rocking' number is for us the red carpet of the album and they rolled it out perfectly!  On the title song, the quite superb snare-intro and the smooth changeover to the infectious riffs is one of the most crushing we've witnessed in the last couple of years. 
'After Dark' from the film 'From Dusk 'Till Dawn' is the first surprising cover on this album.  The personal twist they add to this number is highly inventive and shows their single mindedness.  In Scottie's own number 'Tin Can' we detect a hint of R&B.  With his course sandpaper voice and brilliant guitar play the likable Scottie has two trump cards in his hand, and he couples these attributes with his impressive song writing.  The drum play combined with Blinn's superb performance is an absolute moment to savour. 
  
In fact, the whole album 'Black Roses' from beginning to end is a highly encapsulating listen.  You may need to become accustomed to 'Mean Old World', the final track, as T-Bone Walker's jazzy-blues song might sound a little bit out of place.  But this gives ample opportunity to listen to the craftsmanship Scottie displays within traditional blues, as well as some masterful brushes and snare.  Not forgetting that Roxy Coverdale takes the limelight as a fine singer on Otis Rush's 'Keep On Loving Me Baby', which, if a direct plea to Scottie, how can he resist?  
Black Market III is a band you MUST see live.  They have recently teamed up with Danny De Man to ensure a smooth and professional set up.  As a result they have been very successful here with many gigs in this area.  A little bit of advice, keep checking their face book page for additional gigs. 
Take this opportunity and go and watch this band live.  No doubt you'll be heading home with a signed CD as they are always glad to meet up with their fans and admirers, and they continually remain their likable selves. 
  
Black Market III, pure enjoyment! 
Source http://www.rootstime.be/ Rootstime Belgium ( Luc Meert ) Translation by DDM ( approved by rootstime Belgium )