[NEW PRESS!]

Feb 2015 COVER OF BOOGIE MAGAZINE!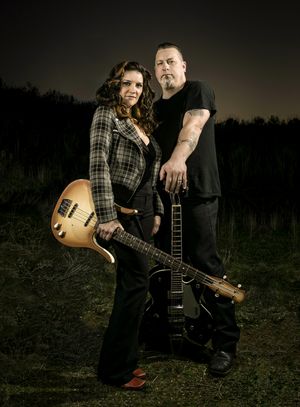 Black Market III A Recipe For Success
(Eli J. Medellin, Feb 2-015)
http://www.blackmarketiii.com/bmiii-quotes

After having a smashing success with The Mississippi Mudsharks in the 90's, then again in the mid 2000's, Scottie Blinn has learned the lessons of the road from his own experience as well as from the the experiences of those he's had the privilege to work with, and has formulated his own solution to a successful band.  He calls it Black Market III.

Black Market III is a Rock & Roll business, with sponsors and merchandise carrying a trio of musicians through tours throughout the United States as well as Europe.  Who is Black Market III?  Are they a blues band or rock band, or metal band?  How did they get to this level of success?

We caught up with Scottie, Roxy Coverdale, and Gavin Glenn at a very nice hillside home that Scottie and Roxy share together, with a beautiful mountain view of Lakeside California in San Diego's east county.  

We are quickly greeted by a Dachshund named Lloyd who has to check us out and make sure we're ok to come in.  Right away I notice a collection of new and vintage guitars displayed on the wall, and Scottie had a story for each one.

While Gavin sets up his drums in preparation for rehearsal, we take a seat in their living room/rehearsal room/studio for a close-up intimate interview with the trio to find out their secret recipe.

Scottie Blinn-
Scottie Blinn's influences are too numerous to name.  They range from T-Bone Walker and Lightnin' Hopkins to ZZ Top, The Clash, and Social Distortion.   His sound is a hard core mixture of everything in between.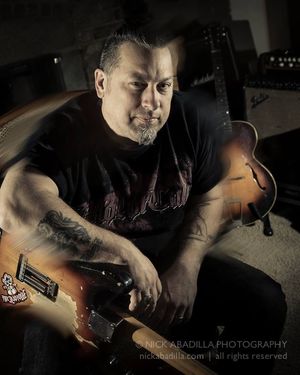 He grew up moving all over California.  He started playing guitar at age 13.  The family landed in San Diego when he turned 15.  At that time he joined a band with a high school buddy and his older brother and a couple of their older friends. The Wholly Rollers was a Rhythm and Blues type revue and played out locally quite a bit.  As members had to go their own ways, Scottie and front man Fred Kokaska stayed together and formed Bare Bones, which through various incarnations still plays today.

At age 19 he met San Diego Blues legend Tomcat Courtney and was introduced to the Who's  Who of the blues scene.

"I'm meeting all these guys who were at the core of the Blues scene, guys like Eric Lieberman and his band The Jukestompers.  Eric's former band was the highly regarded Rhumboogies, featuring Earl Thomas as the vocalist," said Scottie.
Scottie says that he learned the Lightnin' Hopkins style guitar playing from Tomcat as well.
 
In 1992 he formed his own band that grew to be very popular called The Mississippi Mudsharks.
Between 1992 and 1999 they spent most of those years playing seven nights a week and touring the Western States and Europe.

"It wasn't so much there was lots of places to play, it was just San Diego wasn't as oversaturated as it is today," said Scottie.

The Mudsharks took a bit over a six year hiatus while Scottie formed another band called the Tiki Torchers with Dave Uosikkinen of the Hooters on drums, and Tim Butler of Hot Rod Lincoln and Sha Na Na on bass.

He got back together for a "one night show" with his drummer from the Mudsharks, Tom Essa, in 2006.  They had so much fun doing that show, and since Blinn had already accumulated two records worth of material, they decided to make another go of it.  This time they would not be doing the seven night a week local and U.S. gigs as before, but opted to continue doing their European tours since they had already established themselves there before, and Blinn had kept building upon that with his other bands.  They continued recording and touring for a few years, then around 2009 they called it a day.


Roxanne Coverdale-
Roxy was raised in Chula Vista, California.  Her musical influences come from what she heard around the house growing up with her parents and older brother and sisters.  It ranges from Big Band to Classic Rock to Mexican music.  Although, her favorite band is Led Zeppelin.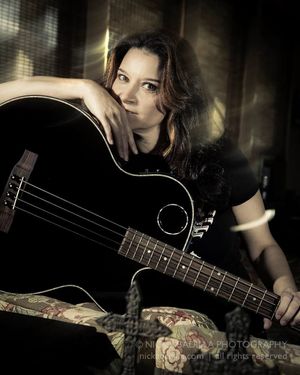 As opposed to Scottie, this is Roxy's first band.  She and Scottie had been together long before BMIII and she had even gone on the road with him while he toured with his other bands.  With Scottie's encouragement, she started picking up the bass first as a relief from her stressful job.  

"He's always wanted me to pick up an instrument and I've always loved the bass.  I think it's a highly underrated instrument. I always hear the bass when I hear a song,"  said Roxy.

So with couple of bottles of wine and Lloyd hanging out with them , Scottie taught her to play the bass while just jamming in the living room. They would jam like this on and off again for a few years while Scottie was still touring with the Mudsharks and Roxy was honing her skills as a bass player.
 
Around 2010 Scottie was concentrating on how to proceed professionally as the Mudsharks started to phase out, so he approached her with the idea of getting serious and starting their own band.

"The whole idea was for us to get some small coffee house and winery gigs and do a real quiet duo - something to do just for fun," said Scottie.   "I wasn't touring with my former band...I was pretty much in between.  It was just the right opportunity to start something and see it through."

For the next year they practiced up to five nights a week and put their dream set lists together.  Next they connected with a drummer, 23 year old Haley Allen, and after a few rehearsals they realized it was something special.  Scottie and Roxy asked Haley how she felt about going forward and really making this a successful band. Haley was "in".

Doing something just for fun was not really in his capabilities.  "I'm either a thousand percent in, or I just don't have time for it," he said.  It was time to start recording and touring.

For Roxy's very first gig in front of an audience, they showcased four songs at Chet Cannon's jam session at the Downtown Café on a hot El Cajon Sunday.  "It was about a hundred and two degrees," exclaimed Roxy.   

"A lot of friends and family from Chula Vista came to see us," she said.  "I was nervous and excited.  It took several days to come down from that high."  Yet, that would be just the beginning of her career as a musician.

After the band had already been touring and becoming financially lucrative, and while she was still working full-time, Roxy came home one day and told Scottie she was ready to do Black Market III full time.


The Music-
"We don't consider ourselves a Blues band," said Scottie.

"We have a deeply rooted Blues foundation.  My soul is in the Blues."  Scottie explained that having that solid foundation allows everything spring boarding from that to make sense. They credit Tom Waits as a main inspiration for the band, as he is a "story teller" with a Blues foundation.  "Calling it a blues band would limit our audience." 

With that unique Metal and Punk bottom, they have quite a Metal band following as well.   "In Europe some of our biggest fans are the metal kids, and we get put on bills with Metal bands occasionally too" he said.

"We'll get write-ups in Blues magazines and then the next week we'll get one in a Rock and Metal magazine like The Catalyst," said Scottie.  "It opens up people to different styles and exposes us to a much larger audience.  We like to go see and play with bands in many genres."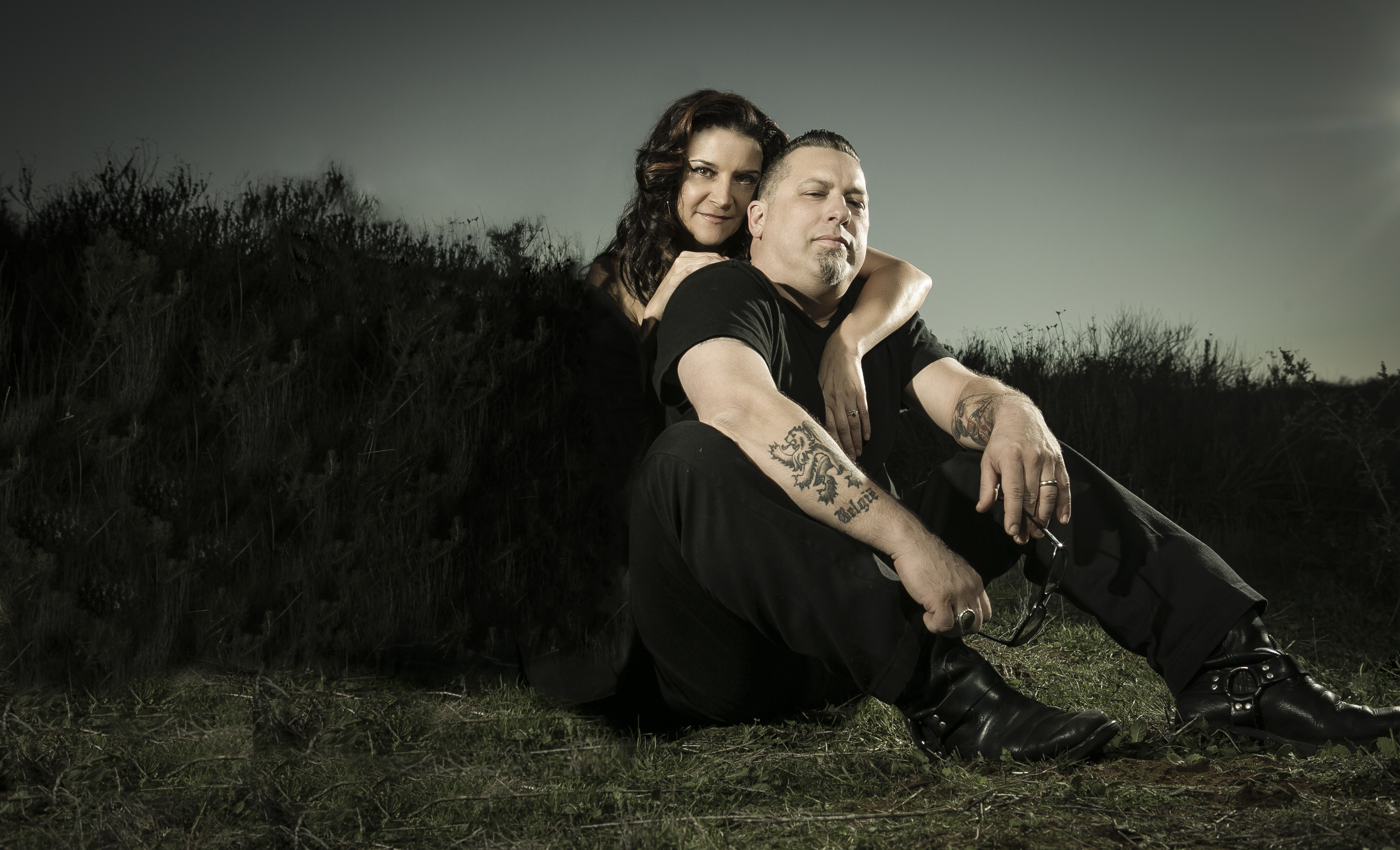 The Band Name-
Scottie and Roxy originally came up with the band name from a Tom Waits song called "Black Market Baby."  Soon after labeling themselves as Black Market Baby, they found out about another band out of D.C. that had made the name popular in the Hard Core Punk scene in the 80's.

Scottie contacted one of the band members through Facebook, explained the situation and asked if it would be ok to use the name.  Since the other band was no longer very active, and had derived their name from a 70's TV movie about babies being sold on the black market, they had no problem with another band using the name in a different genre.  

Shortly after, Black Market Baby's (Scottie and Roxy's) Facebook page starts getting hate emails from fans of the other band for stealing the name.

"It was people from a Facebook group called The Eighties Hard Core Kids saying 'Who the hell do you think you are?' "

Apparently the other Black Market Baby band had taken notice that Scottie's band was taking prime space in the search engines and affecting their merchandising sales and so forth.  The singer had sent the link to the Facebook group to insight an online riot.  

After Scottie called him to 'discuss' this situation, The original BMB once again reached the group to admit that the singer had indeed allowed the other band to use the name.  However, the damage had been done and after mauling it over, Scottie and Roxy decided that maybe Black Market Baby wasn't such a great name after all given the negative connotations.

Since they had already been marketing the name and getting noticed, they tried to figure out a way to just change it a little.  Since they were three they tried Black Market Trio, but it sounded too much like a jazz band.  So they incorporated the Roman numeral III.  
 
"Of course now that gets confused," said Scottie, "people say Black Market the 3rd...Hahaha!"  Roxy chimes in, "It seems like every night we get, 'Why Black Market III?'" to which Scottie replies, "Hmmm..." pointing at each member.


Touring-
Since 1995, Scottie has toured with his bands through Mexico, England, Spain, France, Belgium, Holland, Germany, Switzerland, Austria and Luxembourg and is now looking to hit the Scandinavian countries and the Eastern European countries such as The Czech Republic, Poland and Romania.

Scottie's main ingredient for touring is building relationships. "We used to have an agency in Europe and still occasionally do some shows through them, but now mostly book our ourselves through the relationships we've nurtured," he said.

When the band tours they return to the same clubs and people where they've played before.  "Those relationships are our starting point for the next tour, and we build from there."

As much as it is a business, it is mostly the relationships that the band has cultivated and guards carefully.  "We don't even say that we have fans.  We have really connected friendships with people that come out to see us all the time," said Scottie.  

When touring, the band will often find themselves being invited to stay with friends that they have made on the road.  "They'll say, 'oh we see you have a day or two off.  Why don't you come stay with us?' '"

As for the business , "First and foremost we love music," said Scottie.  "We love playing live in front of people, and we love recording."  "Obviously," he continues, "the only way you get to continue doing that is to have a smart business sense and plan so you can actually afford to do what it is you love to do.  If you're doing it just to make money, it's the most ridiculous thing in the world.  When you are into anything you do for the right reasons, the money will come."  

He goes on to explain that some bands want to be a success right away, thinking that a tour to Europe or even a state side tour would mean automatic success.  He is often approached about helping other bands, but has to keep it realistic.  "Yes of course I'd love to help out, but there is a whole grocery list of things that need to be in place and accomplished first," he says.

"It takes building a name and relationships.  You can't expect to go book a festival for the first time and ask for thousands of euros. It doesn't work that way just because you're an American.  You have to first put in the hard work of networking and selling records...and be impressive on the stage as well."

One of the ways they find to network with other bands is to have mutual interest touring.  They find a band who is popular in a region where they are not known, and the other band will have a mutual interest in touring where Black Market III has worked hard to establish.  So they recommend and help book each other in these areas, or even book together as a double bill.  In that way they cross introduce bands to fans.  "We create a circuit that everyone can benefit from," said Scottie.  

BMIII has done this successfully with a highly regarded West Coast Jump Blues band from Fresno, CA called the MoFo Party Band both in the States and in Europe.  Coming up, Scottie and Roxy as the duo "Black Market II" are co-headlining a tour with another couple from Austin, TX called The Division Men.  When this other duo arrives in California in mid-February for the "Tragic Lovers Tour", the two bands will head out through California, Nevada and Wyoming where Black Market III is already established, and then they will continue through Colorado, New Mexico and Texas where The Division Men can introduce their fans to the band from California.  

As Scottie sees it, "Number one, you know that the quality is there and number two, everyone involved with booking these tours [bands as well as clubs] knows that over the course of two or three time around, we're looking at everyone doing very well financially from the night."
 
I asked Scottie for what he saw as the biggest difference between touring in Europe versus the States.  He replied,

"The biggest difference is, over there, it doesn't matter what day of the week it is.  People are there because you're there.  Also, there's a much bigger respect for what's going on, for the music and the performance," he said.  "For instance, there's no televisions in the bars, or if there are for sports they don't even consider leaving them on.  Here, most places have one or more TVs on while a band or even a solo musician is playing.  To me that is at the very least distracting, and at the very most  disrespectful."

He continues, "We strive to make each performance a show, something special, not just be the band in the corner of the bar playing songs like a jukebox."

                  
Promotion-
"Both the club and the bands have to put 100% in getting butts in the seats," said Scottie.  The clubs are expected to promote but the band plays a huge part in promotions as well.  They network with radio DJs, hang up posters, and always remember to utilize social media as well.  They have figured out the successful way of using Reverbnation and Facebook, noting that is equally important to follow up after they had already posted a week before the show.

"You learn what to do and not to do, and figure out how to post when people are going to actually see the posts."  Posters still play a big part in promoting, and they make sure to hang hard copy flyers where ever they will be playing and make the digital copy for the social media sites.  

"and not to say that every one of our shows is packed either [locally]," said Scottie.  "We might have sixty or seventy friends show up and then a couple of weeks later, there might be ten.  There's just so much out there, but you put in the same consistent effort every single show then at that point, you've done everything you can do.  So, you can't feel bad about it."

Scottie goes on to point out that when clubs work hard to promote and they hire quality bands that work equally as hard to promote, they are the clubs that get noticed as the "happening" spots for live music.

The band also has sponsors that they have, again, built relationships with.  Sponsors such as Quilter Amps, Boulder Creek Guitars, Motor Cult Kustom Kulture Clothing, and Iconic Custom Guitars also help spread the word through their own advertising.  
 

Veering Left-
At the end of our time together, everything to a comical conclusion referring to Roxy's antics on the road.

It seems that although she is never in a bad mood and is timely and responsible, Roxy has a disturbing sense of humor as well.  From her one-liners on tour like "What the fuck day is it anyway?", to putting on her dark sunglasses, rolling up her hoodie and proclaiming, "I'm goin' Uni-Bomber on your ass" when Scottie and their drummer are "being boys".
 
She maintains that she had never wanted to be the burden that one might think of the only girl in the band.  Rather, she prefers to think of herself as the "I Love Lucy" character always trying to find a way to get into Ricky's band.

In closing Scottie proclaims, "Being in a band that is Family does not suck."